This week on: MAKE ART WITH YOUR FRIENDS.
*Edit. What's really cool about this shoot is it was just a fun passion project, but a couple months later I got hired to shoot a magazine cover and spread because they loved this shoot!
Recently I met up with my friend Julu (a bad ass painter) and we chatted about art while we ate some bomb sushi. As we talked about our love of art history, it was clear that we needed to collaborate together on a project. We thought - what would it look like if we took our favorite paintings and reimagined them as fashion portraits? MAGIC. Once we agreed on the paintings we put together a shoot deck, enlisted the help of a stylist, florist, and three lovely test subjects (who are also artists) and created what you will see below. In addition, Julu created three custom paintings for us to serve as backdrops for our shoot.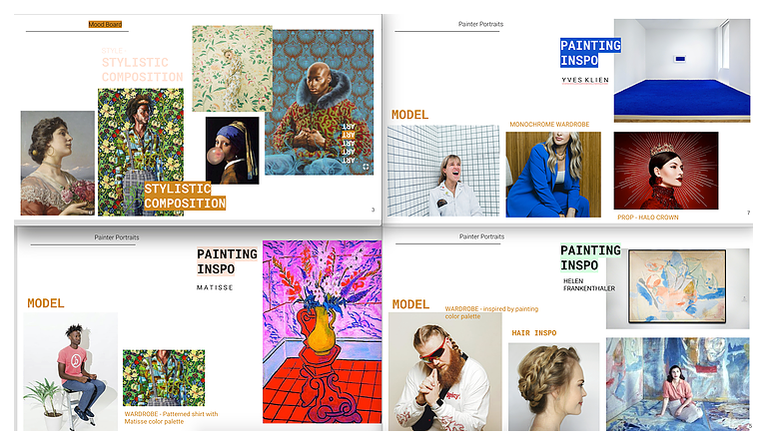 Our first image was inspired by artist, French painter Yves Klein, who was a part of the Nouveau Realism movement. He was known for his obsession and use of the cobalt blue, so obsessed that at one point he ate the paint to be more at one with the color. His other fascination was the female figure.
The second image was inspired by Matisse and his love of all things color and pattern. Even when all of his peers at the time were using natural colors and painting accurate colors in a scene. Matisse said, "hold my beer" and used color palates that we still use today.
And last but not least, this portrait was inspired by one of my favorite paintings, Mountain and Sea by Helen Frankenthaler. She was a American abstract expressionist painter, that used diluted oil paints to render these dreamy scenes.

Thanks for reading and supporting. Remember, go out and make art with your friends!
Julu, Painter: https://julujulu.com/
Mallory Fite, Stylist: inhabiteer.com
Meagan Marie, Florist: meaflowers.com